5 Aug 22
Commonwealth Games Parade
We had a wonderful start to the week holding our school's version of MCC Commonwealth Games Opening Parade. Our very own Queen Elizabeth II was able to make it to officially open the ceremony.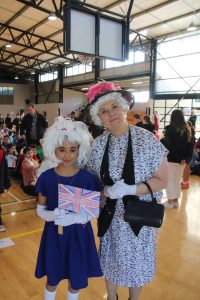 The atmosphere was electric, and excitement abounded as the children all came dressed up to represent one of the countries of the Commonwealth:
Prep – Australia
1A – Samoa
1B – India
1C – Dominica
2A – Singapore
2B – Mauritius
2C – Canada
Year 3 – New Zealand
4A – United Kingdom
4B – South Africa
5A – Scotland
5B – New Zealand
5C – Fiji
6A – The Bahamas
6B – Malta
Many of our learning activities for this week have a Commonwealth Games focus as well. Such rich learning opportunities.
Thank you for helping to make this possible by reading the emails from your child's homeroom teacher and preparing an appropriate outfit.
Other important dates coming up are:
Friday 5 August – Prep 100 Days of School
Friday 5 August – Mini Commonwealth Games – all Years 1 to 6 children to wear PE uniform with runners (Preps will do something similar on another day)
Monday 22 August to Friday 26 August – Book Week
Thursday 25 August – Favourite book character parade – details to come soon
Thursday 25 August – Books to Life incursion
Tuesday 13 September to Thursday 15 September – Primary School Musical performances
Thursday 15 September – Last day of term three for students
As you can see, we have a busy term with lots of exciting things happening.
Thank you for your support in helping all of these events be a success for your child.
Jodie Vamplew, Head of Primary